Curious and willing to learn new things, 30 elderly people, grannies from Șoldănești city and Sămășcani village, supported by volunteers, found out what digital world means, have received smartphones, minutes and internet traffic from Moldcell, within the project #LikeDeLaBunei.
As a result of the learning sessions, the elderly people learned how to pay the bills via online channels, how to use social media, chat online with dear ones established abroad, download useful applications, take photos/videos, send messages or even receive/make phone calls.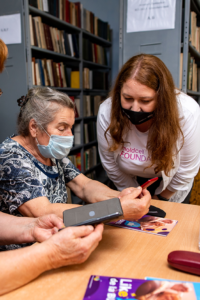 Mrs. Margareta from Șoldănești, 71 years old, wanted badly to open a profile on Facebook. Her nephews told her that everyone has profiles on certain social media. Mission accomplished. The Moldcell volunteers helped Mrs. Margareta to step into the Facebook world, upload photos, add her entire family in friends, make posts or even…stories.
Besides our Purple Team volunteers, during this visit, also have participated few younger volunteers. Some of the teenagers (13-15 years old) have participated in trainings and helped the grannies to understand how the online works. Profoundly touched, the younger volunteers remained more than satisfied about the results, in this way contributing to country's well-being, and are ready to embrace new trips as soon as possible.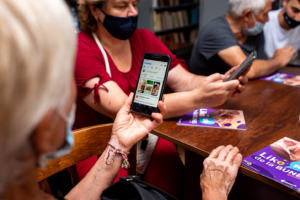 In case you have missed the #LikeDeLaBunei project and want to become a Moldcell volunteer, in order to help the elderly people understand better the digital means, please leave us a message on fundațiamoldcell@moldcell.md.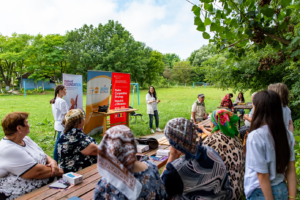 *The intergenerational dialogue project is funded by the Moldcell Foundation, the UN Population Fund (UNFPA) and the Swiss Agency for Cooperation and Development, and implemented by HelpAge International in partnership with the Ministry of Health, Labor and Social Protection in 15 regions of Moldova.
#LikeFromGrannies #DigitalSkills #IntergenarationalDialog