On February 11, Mediacore hosted the fifth national competition "Together for a Better Internet", organized within the Safer Internet Day, in partnership with the Ministry of Education and Science, Moldcell and Moldcell Foundation, with the support of the Council of Europe Office in Chisinau.
This year's competition had an Ideathon format and gathered 44 children, accompanied by teachers from 10 high schools from all over the country.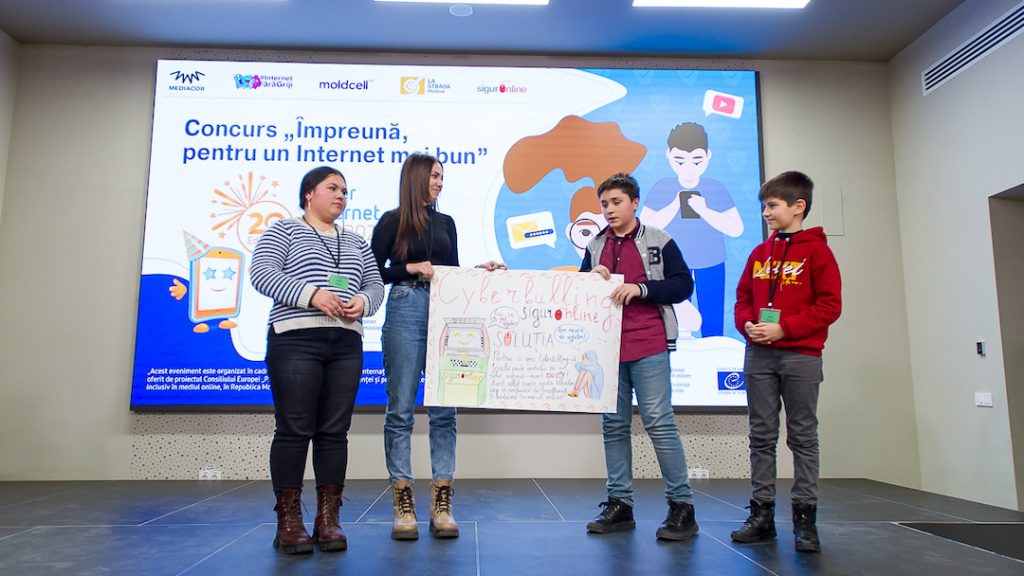 The children tried creatively, using words, theatrical performances or presentations, to identify solutions to the problem of Internet safety. Middle school students worked in groups to prepare their answers to online safety issues relevant to their institutions.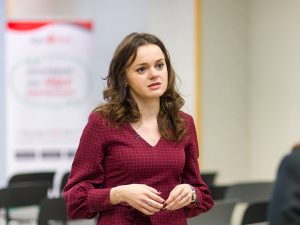 According to Elena Botezatu, Executive Director, International Center La Strada:
"Through the new format, Ideathon, we want to give children the opportunity to make their voices heard, to encourage the most open and genuine involvement of children in generating solutions for a safer Internet for them."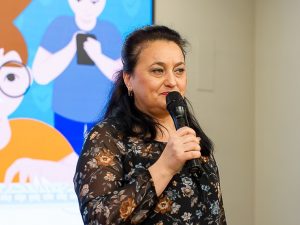 Angela Prisăcaru, senior consultant, General Education Directorate, Ministry of Education and Research of the RM, says that throughout this period, while this competition is being organized, the institution she represents, in partnership with "La Strada", has come up with new approaches every time, to make it interesting for children: "This year's edition, fifth in number, is special in that the students not only demonstrated certain knowledge and skills, but also came up with new solutions. Thus we, the adults, gather ideas from their visions as well."
The partnership with Moldcell, a company providing Internet and mobile communications services, strengthens the conviction of the organizers of the competition and the authorities that good intentions and social responsibility prevail in the operator's activities.
Carolina Bugaian, Moldcell CEO: "Children are the fiercest users of the Internet. We take care to provide a safe environment for using the services. Over the years, Moldcell has also developed parental control services through which parents can monitor their children's online activities. Precisely for this reason, in 2018, we came up with the project "Internet without worries", because we believe that it is first of all important to know the rules of life in the online space."
Childrens demonstrated great ingenuity in exploring problems and suggesting solutions:
Axenia Cucu, student, 9th grade: Axenia Cucu, student, 9th grade: "The problem we had to find a solution to is the high vulnerability of 5th and 6th grade students in our high school. We proposed, as a solution, to create a debate club, which would meet once a month, the students would come, they would be offered various quests, trainings. We proposed to invite teachers, our colleagues, some parents and other specialists in this field as speakers to these meetings."
Creative, innovative, ingenious – this is how we can describe the solutions generated by students in this competition. Everyone encourages safe online behavior based on communication, not restrictions. Most of them are practical solutions that can be applied in institutions without additional resources to solve the problem of online safety in the institution: creation of a group of volunteers (school students) under the guidance of a school psychologist who will organize online safety activities at the school, develop materials on this topic, communicate with children experiencing unpleasant situations in the online environment; organization of interactive classes in the gymnasium on the subjects related to people with false identity in the online space (theoretical aspects will be combined with practical demonstration). Also, in order to solve the problem of insufficient educational activities in the field of communication and friendship in the online environment for students, it was proposed to organize online intellectual games, contests, marathons on this topic, a living library with specialists who will talk about the risks in the online environment, about how to prevent them, as well as how to deal with an unpleasant situation in the online environment.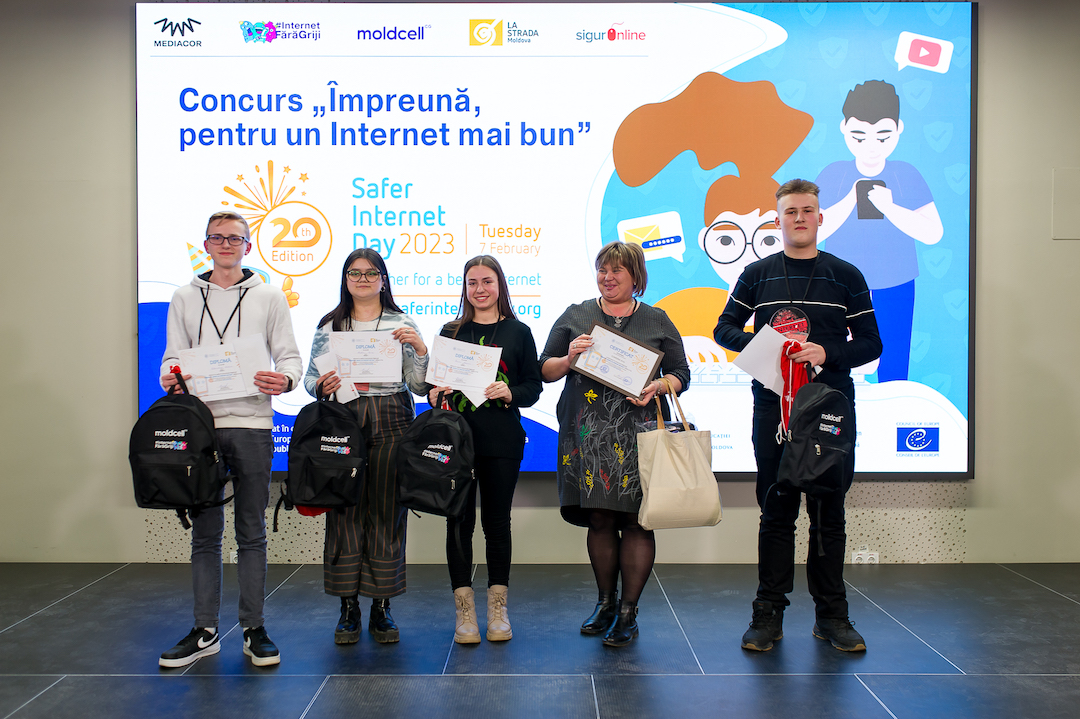 Vîlcu Daniela, student, 7th grade "We decided to gather a big team in our school, to watch movies together, to talk with the district policeman or an invited psychologist. We know children who don't have the opportunity to talk to someone they can trust, for example their parents don't understand them, they have other problems in the family."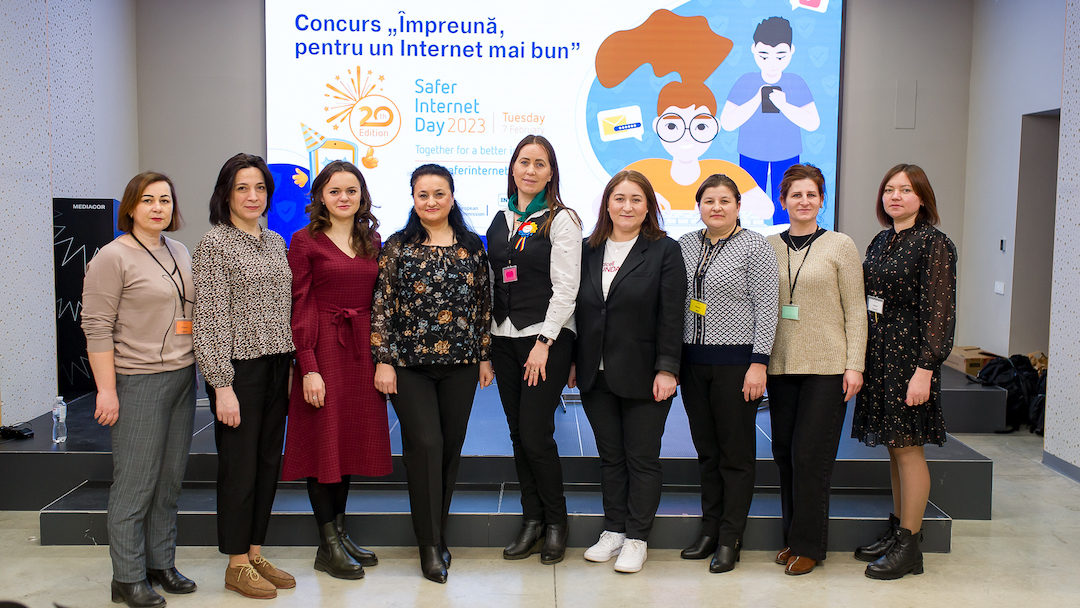 Rightfully, the jury was convinced that children can generate creative and innovative solutions, and the task for the teaching staff of the institution is to see how they are subsequently applied in practice in order to provide a better Internet for every child.